Exporting Yahoo to Zoho Mail is Very Simple – Know How?
Do you really feel that exporting Yahoo to Zoho mail is a difficult task? If you still have such a feeling, don't worry, as you finish this article, it will become real easy for you. Transferring data from Yahoo mail account to Zoho mail is a simple process and there are multiple methods to complete this task.
One option that you all might have noticed or tried is the email forwarding facility. This option is somewhat useful, but I want to ask, does it forward the old emails as well. The answer from my end is a NO. This process will move only the new emails that came after the email forwarding was set on Yahoo mail account.
In such case what is a solution. This article will guide you on all the approaches you can follow to take the Yahoo emails to Zoho Mail without misplacing an email data.
Exporting Yahoo to Zoho Mail – Techniques
Talking about the techniques, we have an option of configuring Yahoo mail on Zoho. With this option, you can access the Inbox of the Yahoo mail in the Zoho account.
Another approach that we have verified is using the Zoho Emails Import facility. Here as well, you must be aware that yahoo does not have any form of email downloading facility. For that, we will be using the Yahoo mail backup software. After downloading the email data in Zoho mail format, we will import it into Zoho account.
Let us start with each approach in deep.
Approach 1# Setup Yahoo to Zoho Mail
Open Zoho mail sing-in page and Login with Zoho account credentials.
Go to settings option and click on Add POP3 account from Mail accounts division.
Enter email address, account name, default email address, and click Next.
Then, enter server configuration and authentication password:

Server Hostname: pop.mail.yahoo.com

Port number: 995

Encryption type: SSL

Click Next to move to Outgoing tab. Here also, provide the server configuration

Server Hostname: smtp.mail.yahoo.com

Port number: 465

Encryption type: SSL

Check authentication option and then choose use same as incoming credentials.
Click on Add account option to setup Yahoo mail in Zoho account.
Once you have configured the account on Zoho refresh the account to sync all the emails in Inbox to sync to the Zoho mail.
Also Read: How to Set Zoho mail in Outlook?
Where This Option Limits the User?
As said above, this process moves all the emails to the inbox folder in the Zoho mail panel. No folder structure, no email read/ unread status. All emails seem to be unread here. This moves the user to trouble as the categorization of emails (important) with folders will be difficult.
If a person having a lot of emails within multiple email folders will become tired of reaching each required email like this. There are situations where you don't need to move all emails as well. In that case, do we need all these emails assembled in bulk in Inbox folder on Zoho mail?
For users with more efficient and selective data transfer can try the approach down below. It may help you for exporting Yahoo to Zoho Mail more easily.
Approach 2# Download Yahoo Emails and Import to Zoho
This technique is a bit different from the one we discussed above, Here, we are using a simple application by name, Yahoo mail Backup Tool. It will download the emails and its respective attachments to hard drive and then import the email files to Zoho Mail account with the emails import functionality. Let us start the process.
Download Software Now Buy Software Now
Steps for Exporting Yahoo to Zoho Mail
Run Yahoo Backup Tool and login with Yahoo account.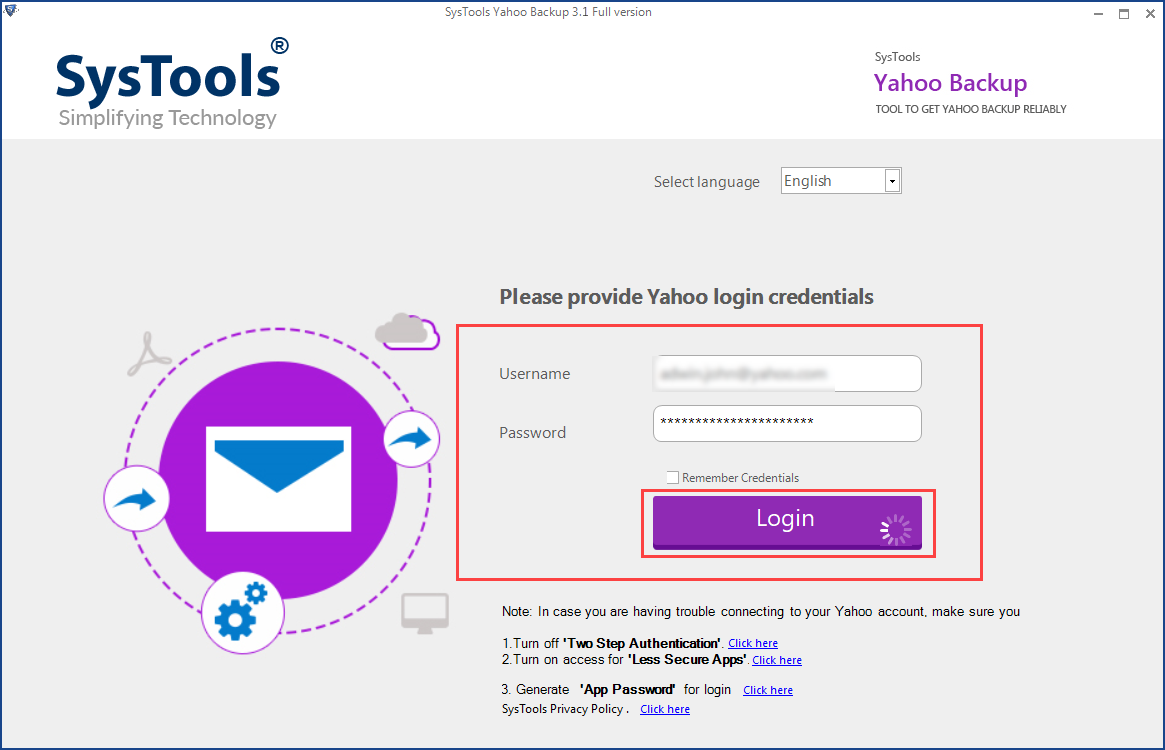 Select EML format and browse location to save Yahoo emails.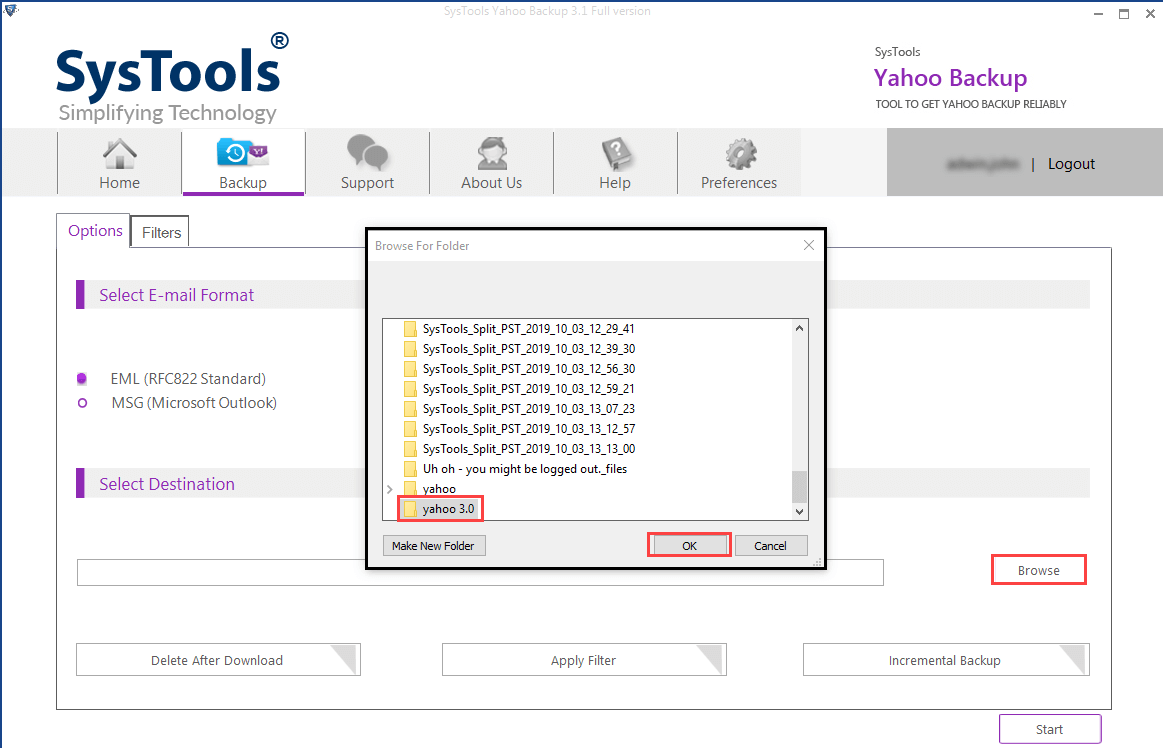 Start the process for exporting Yahoo emails in EML.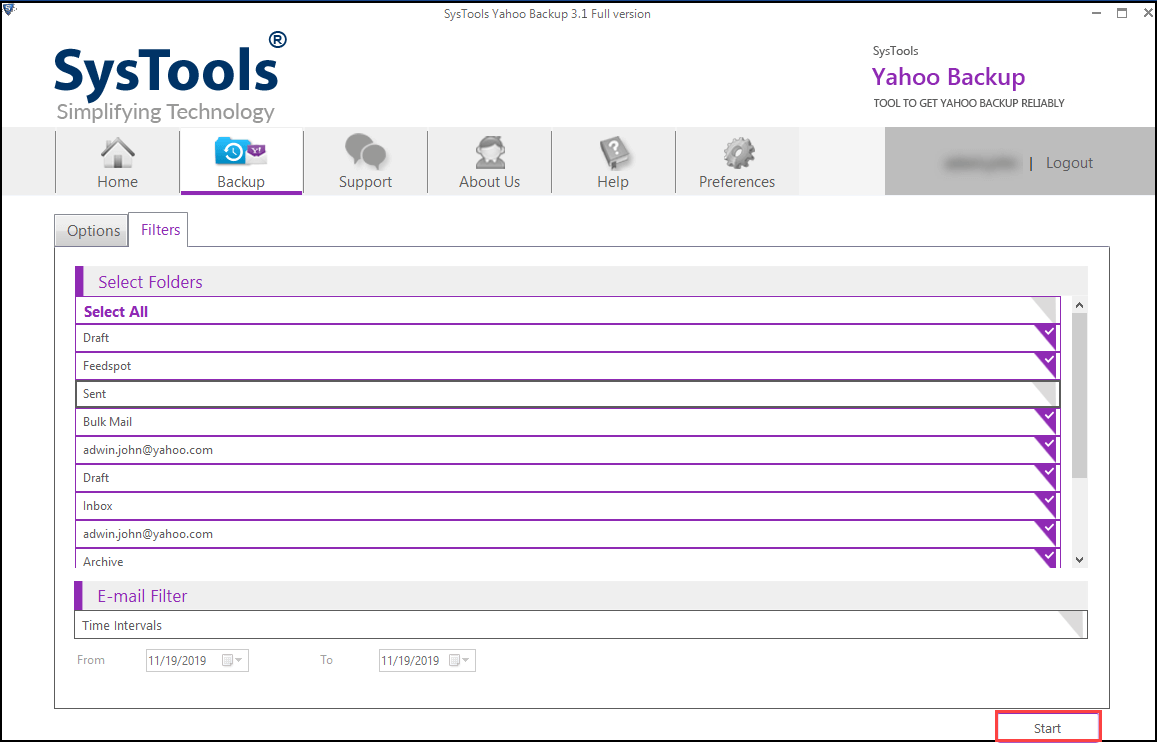 Now, open Zoho Mail and go to Mail settings.
Click on Import / Export Emails option.
Click on Choose file and browse an EML file or a Zip file containing EML files.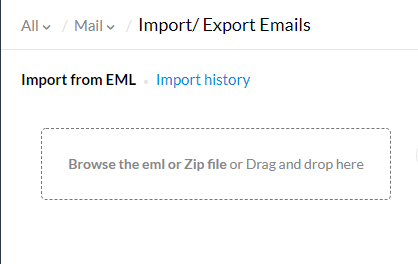 Check for import under chose folder and select the folder to import the emails within a folder.
For maintaining the folder structure of subfolders, choose option Retain folder structure in zip file.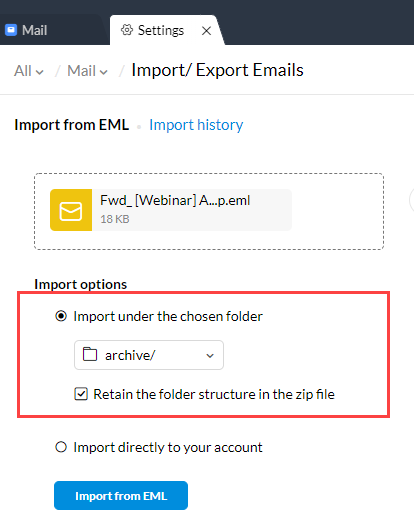 Click on Import (or Import from EML) option.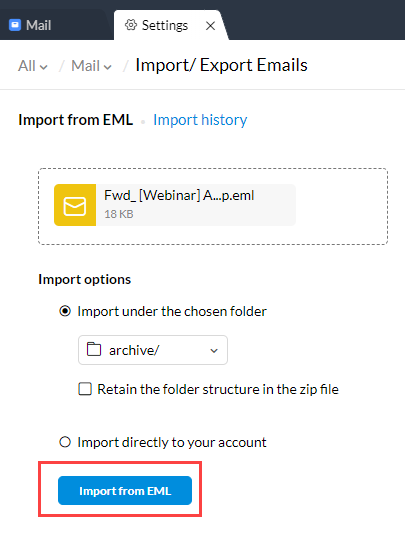 This will import the Yahoo mail emails to Zoho account. As the import is in progress, you can view the emails assembling in the respective mail folder in Zoho account.
This approach is suggested as an efficient technique as each mail file is securely moved and not much effort is to be taken for exporting Yahoo to Zoho Mail account.
Final Verdict
The Yahoo mail users who want to move their emails to the Zoho account can find the best possible solution here. Its' is good if you have set up the email forwarding option. But to transfer all emails from Yahoo to Zoho try out the approaches shown up in the article. It is very fortunate that you got up here and are leaving with the most comfortable solutions for exporting Yahoo to Zoho mail account.