How to Export Yahoo Contacts to vCard Format? Quick Solution
Do you want to export Yahoo contacts to vCard file. If So, then read this blog and get a hassle-free method. Then this blog is for you where you will get a complete guided solution. therefore, if you want to know the solution, keep reading this article.
In today's technology world, everything is connected to the Internet. So you can easily find a solution for any problem. That's why we prefer the cloud to store our data, emails, documents, files, calendars and contacts. But when we need to export contacts from the cloud to a local machine, there are several reasons.
vCard, on the other hand, is basically a file of electronic contacts known as virtual contacts. vCard files can be created to store large amounts of personal information about contacts. With this file, you can store many things, such as phone numbers, email addresses, website addresses, and more. That is why most contacts-enabled applications allow users to export and import vCard files.
User Scenario:
While searching the web, I came across a request from a user that said: "My AOL address book contains many addresses, phone numbers, and very important records. Re-entering all the information is a daunting task as we want to process it into third-party software. Are there any good solutions?"
Here we are working on a solution to your problem and will do our best to help you and solve it.
Why Export Yahoo Contacts to vCard Format?
Universal Contacts Format – We all know that most of the users use their VCF files to store and export their contacts. Therefore, a large number of users would like to export contacts from Yahoo mail to vCard format.
Contacts Backup: Too many users have very important contacts in their \Yahoo mail accounts. So, people are looking for a solution to backup contacts locally. Also, vCard is one of the best formats to store backup copies of your contacts.
Share a Copy of Your Contacts File: Many people want to share their entire contact list with someone. So I'm looking for a solution to export Yahoo contacts to their VCF file.
How to Convert Contacts from Yahoo Mail to vCard?
Follow the given step-by-step process to export contacts from Yahoo Mail to vCard file format:
Export All Yahoo Contacts to CSV
Export Yahoo Mail Contacts File to Desktop
Sign in to your Yahoo account.

Go to your email and click on the contact icon in the upper right corner.
A list of Yahoo contacts appears in the second panel. Click on the three dots icon and choose the Export CSV file.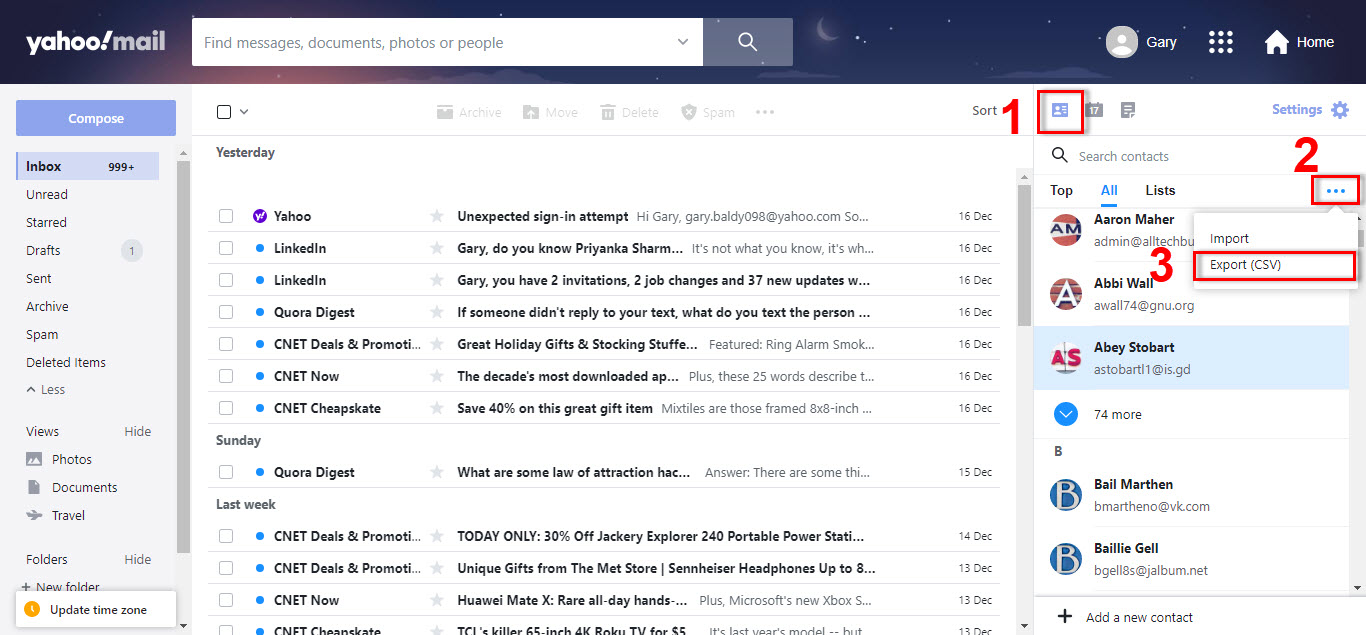 Save the exported Yahoo Mail contacts to a suitable location.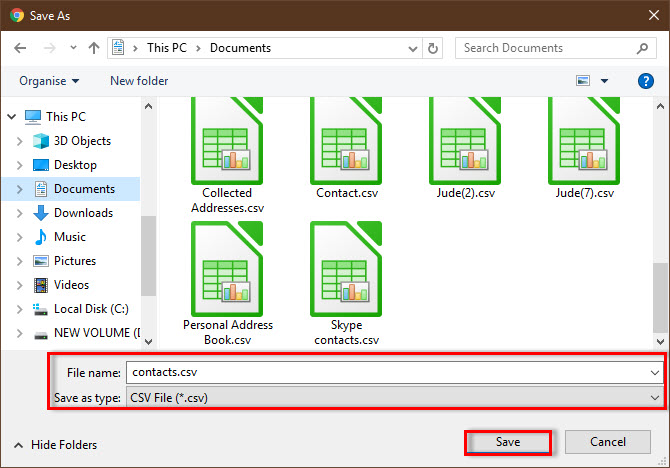 Expert Solution to Convert CSV Workbooks to vCard
Softwarepro Software is an ideal solution to convert Excel to VCF quickly. The utility maintains data integrity and convert files without destroying their contents. Also, the GUI is very user friendly and easy to navigate.
The software automatically captures user information and maps Excel fields to vCard field properties. Additionally, for some common fields, the software prompts the user to select the field manually. This program is completely self-contained. No need to install third-party applications such as Excel. It is compatible with all the latest MS Windows and Mac systems.
Try the Free Demo Version
The Tool which allows users to convert the first 25 contacts from XLS file to vCard format. With all contact information available, contacts are transferred securely from XLSX contact to vCard file format. If you want to export all Excel workbooks to vCard files, you need to activate the software by purchasing the appropriate license.
Download the Expert Suggested Software on your Windows and Mac System
Then, Click on the Browse to upload Your CSV files.
Preview all  Selected CSV contacts files and click on the Next option.
Map all CSV field With vCard contacts, Then click on the Next Option
Select the version of vCard you want, then select the Export tab.
Advantage of Using Automated Solution
Convert Excel files to vCard compatible with Gmail, Outlook, iPhone and more.
Shows a preview of the rows and columns of the selected sheet.
You can manually select no in verbose mode. of columns.
Ability to manually map files to match Excel and vCard fields.
It supports all kinds of spreadsheet file formats like .xlsx, .xls, .xltx, .xlt, .xla.
Direct contact field mapping between Excel fields and vCard fields, such as ID, First Name, Last Name, Email, Gender, IP Address, Phone.
Standalone application that does not require Microsoft Office to be installed on the system
Conclusion
In the above article, we explained how to export Yahoo contacts to vCard format easily and reliably. Users can easily accomplish their task with the help of the proposed solution, believe me. The whole process runs without any limitations or problems. In case of any other problems, you can always contact our experts.