How to Import Lotus Notes Contacts to Outlook – Get the Solution Here
Ashwani Tiwari | Published: November 16, 2018 | MS Outlook
Lotus Notes and Microsoft Outlook both are familiar names in the domain of email communication. Apart from sending or receiving messages, both the standalone application provides contact management feature. Read this post to know "How to Export Lotus Notes Contacts to Outlook?"
However, there are many users who want to keep their Lotus Notes contacts in Outlook application due to some reasons. Although, due to lack of techniques users become unable to export contacts from IBM Notes to MS Outlook. Therefore, in this technical post, we are going to show how to import Lotus Notes contacts to Outlook within a few mouse clicks. Just read this article once, and get ready to move your crucial contacts in the most famous email client, Outlook.
Manual Way to Transfer Lotus Notes Contacts to Outlook Application
If the user has an installation of IBM Lotus Notes on the system, then this workaround can be used to migrate the contacts. Further, this method is classified into two steps:
Step #1: Export Contacts from IBM Notes in CSV File
1. Start the IBM Notes application and go to My Contacts in order to open the Address book.
2. Now, click on More drop-down button and select Export Contacts option from the resultant menu.

3. An Export Contacts pop-up on the screen. Here, you have to enter a suitable name for the CSV file under the File name box. Then, click on the Export button to initiate the procedure.
4. After that, wait for a while until all the contacts saved into a CSV file.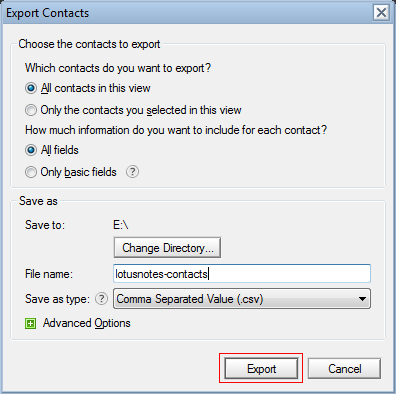 Once all the contacts have saved in Outlook supported .csv format, then transfer the file on the system where Outlook is configured. In such a situation, when Lotus Notes and Outlook installed on the same system, then there is no need to deploy contacts.
Step #2: Import CSV into Microsoft Outlook Using Import/Export Wizard
1. Select the File tab from the Outlook application.
2. Choose Open & Export from File pop-out menu. Afterward, select the Import/Export as shown in the screenshot.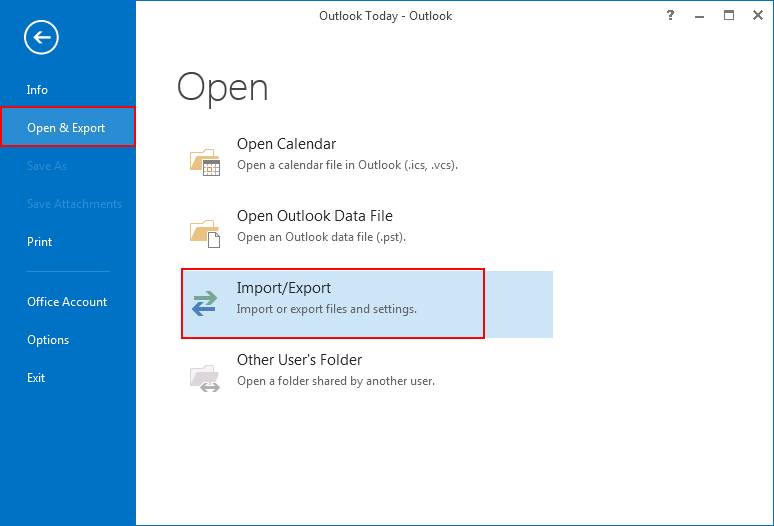 3. Next, choose 'Import from another program or file' option under the Import and Export Wizard. Then, hit the Next button.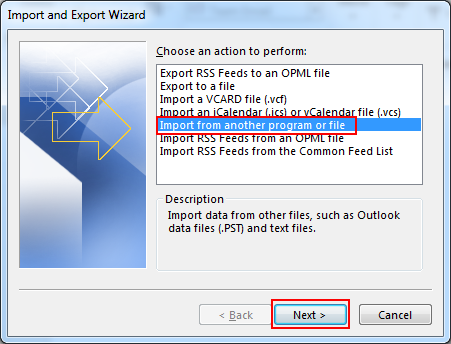 4. From the following window, select Comma Separated Values and press Next.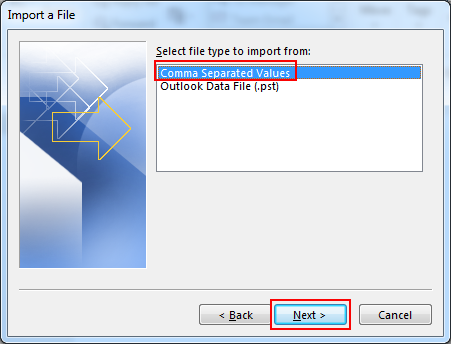 5. After that, click on Browse to locate the CSV file that created in Lotus Notes. Also, select the radio button labeled as Do not import duplicate items and click Next to continue the process.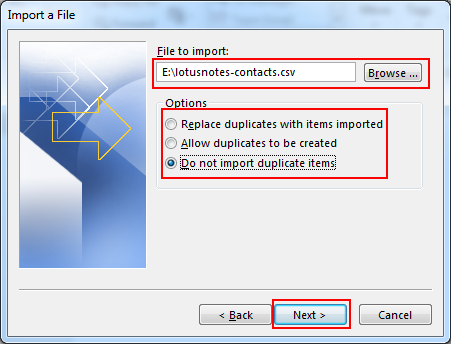 6. Now, select Contacts folder where you wish to import Lotus Notes Contacts to Outlook and click Next >> Finish.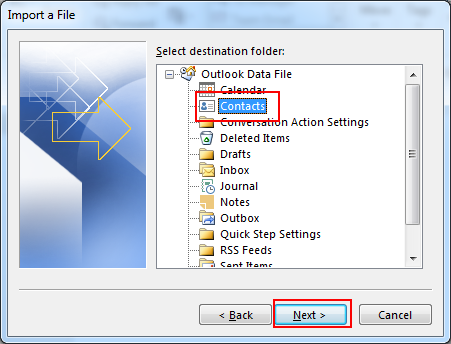 7. After a few seconds, all the contacts of Notes will appear in Microsoft Outlook account.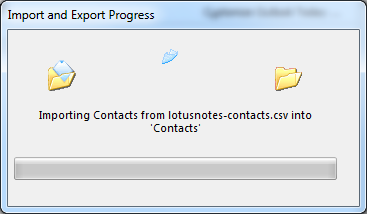 Unluckily, Manual Failed at Some Point
There are some instances where the inbuilt Export Contacts feature of IBM Notes becomes failed. So, users must know all the downsides of the manual workaround before using it. Thus, they will know what type of contact will receive after the migration process.
1. The fundamental or basic fields of contacts will be transferred in Outlook. All the customized field may be removed or altered.
2. The contact image and any type of logo will not be migrated properly into MS Outlook application.
3. It might be possible that the contacts details cannot be matched.
Fortunately, A Trusted Solution is Available
An outstanding application named as NSF to PST Converter software, allows users to import Lotus Notes contacts into Outlook supported file format i.e., PST. So, a user will receive all the field of Lotus Notes contacts in Outlook email client. It is the best alternative for a manual method.
Apart from this, the inviting feature of the software is Exclude Duplicate Contacts that removes all the multiple entries of the same contact during the export process. In fact, a user can select the parameter by which tool can verify the duplicate contacts fields.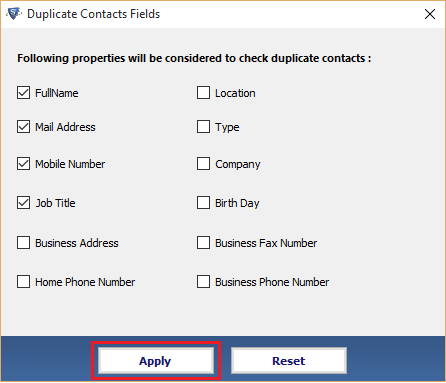 Just user need to follow these simple steps in order to import Lotus Notes contacts to Outlook.
1. Browse Names.nsf file in the software and check the box corresponding to Migrate Contacts into the separate .pst file.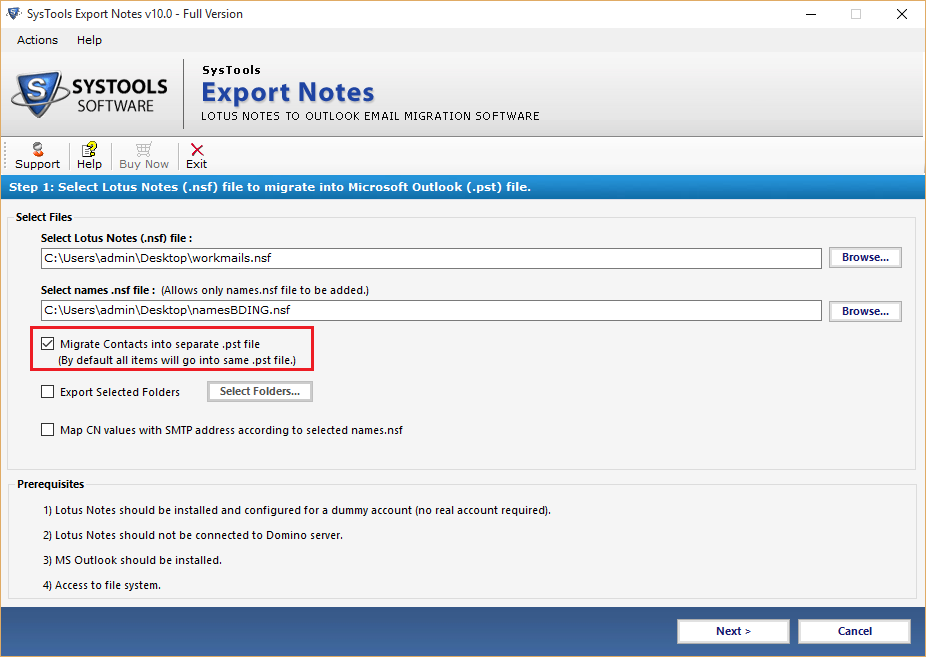 2. After that, under the Select Categories section, check the box labeled as Exclude Duplicate Contacts and click on Set.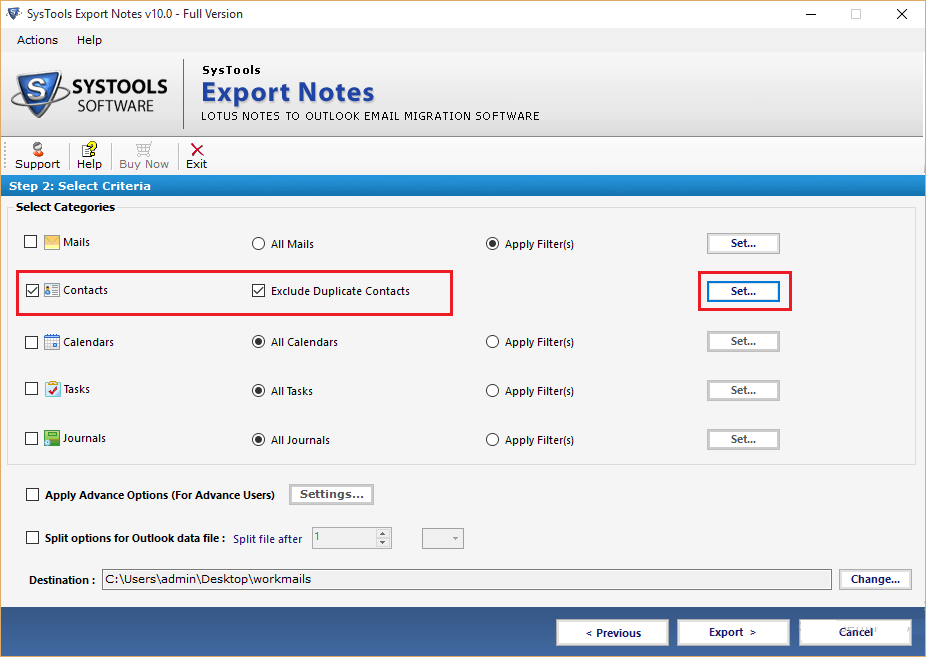 3. Browse a location on the system and click on the Export button to convert Lotus Notes contacts to Outlook data file (PST).

4. Next, add the resultant PST file into Microsoft Outlook with the help of Import/Export Wizards and view IBM Notes contact in it.
Summing Up
After considering the user's query 'how to import Lotus Notes Contacts to Outlook?'. In this technical write-up, we have illustrated two approaches through which a user can simply export contacts from IBM Notes to Microsoft Outlook program. As per convenience, the users can opt any of the above-mentioned techniques.