How To Export Exchange 2016 / 2013 Mailbox to PST File Format?
Ashwani Tiwari | Modified: December 25th, 2018 | Exchange Server
Exchange Server usages the Microsoft Exchange Mailbox Replication service (MRS) to import PST files into mailboxes and export the mailboxes into PST files. As an Exchange administrator, users might need to export the mailboxes to PST files to create a point-in-time snapshot of any mailbox and due to the compliance requirements. In such cases, users ask how to export Exchange 2013 mailbox to PST file format as exporting Exchange mailboxes has always been a bit messy. Below we have taken a user query from a forum website to make the scenario more clear:
"From past few years, we were using Exchange Server. Recently our mother plant ordered us to use Microsoft Outlook as an email client. Now, we need to move all our crucial Exchange database into Microsoft Outlook. As our Exchange mailboxes comprise a large amount of data hence, we do not want to take any chance of data loss. Can someone please suggest us that how to export Exchange 2016 mailbox to PST even without losing a single bit of data? Any advice and suggestions will be greatly appreciated."
If you are the one who is searching the solution for the same query then, certainly you have landed on the right page. This post incorporates all the simple and cost-efficient solutions to export Exchange 2016/ 2013 mailboxes into Outlook PST.
How to Export Exchange 2013 Mailbox to PST?
To export Exchange Server mailboxes into PST file format, there are different manual techniques available. One is with the help of Powershell Commands and other is using Exchange Admin Center. However, the PowerShell cannot recover corrupt EDB files or the mailboxes of Exchange Server. Also, the mailbox must be mounted on the Exchange Server in order to move its data to PST successfully. Due to all such limitations of PowerShell command, we recommend users to prefer EAC method. If you want an easy way to export Exchange 2013 mailbox to Outlook PST then try the tool to export Exchange 2013 mailbox to PST Automatically
Export Exchange 2013 Mailbox to PST Using Exchange Admin Centre
Below is how to use this utility to export Exchange 2013 mailbox to PST file format. Since this is a web service so, let us discuss how to login:
1. Finding URL Server
In order to begin working with EAC, one needs to have Server URL to login. To get this, open Command prompt and execute the following query:

After that, check the "Internal Link". Open Internet Explorer and enter this URL to begin Exchange Admin Centre login service

Note: The EAC cannot be opened in any Web Browser or OS configuration. Below is a list of supported Operating System and web browser combination: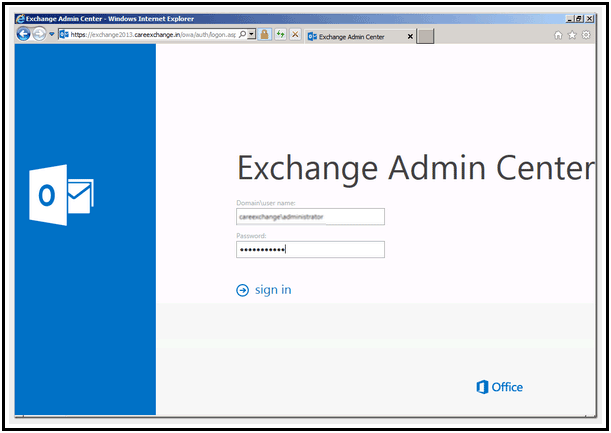 2. Creating A Network Shared Folder and Granting Permissions
Create a shared folder on the network where you need to export the mailbox data. Make sure that it is not created in C: / drive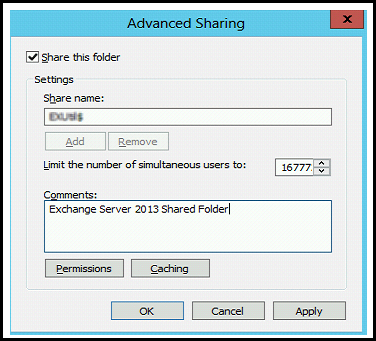 The Exchange Trusted Subsystem requires complete access to the shared folder and for this, hit 'Permissions' button and set 'Shared and Security' Levels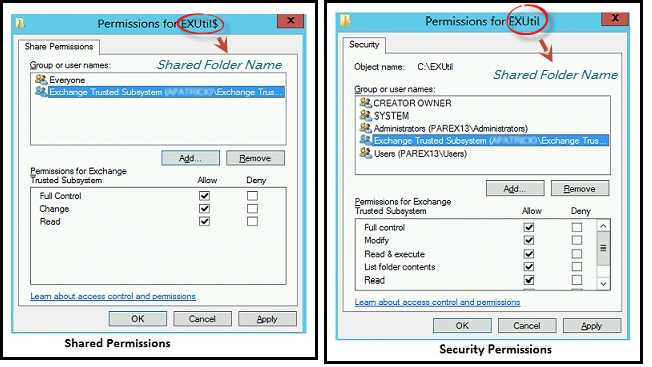 3. Granting Import-Export Permission to Mailbox
By default, no mailbox in the Exchange Server has export-import permission. Hence, to assign mailbox the permission to export into PST:
Open >> EMC >> Permissions menu.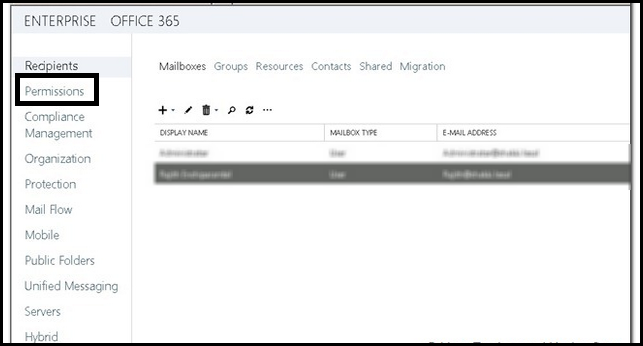 Select Recipient Management then, in the roles section, hit the Add button.
In 'Select a Role' wizard, choose Mailbox Import Export option and click Add button that is within the same pane. Click OK.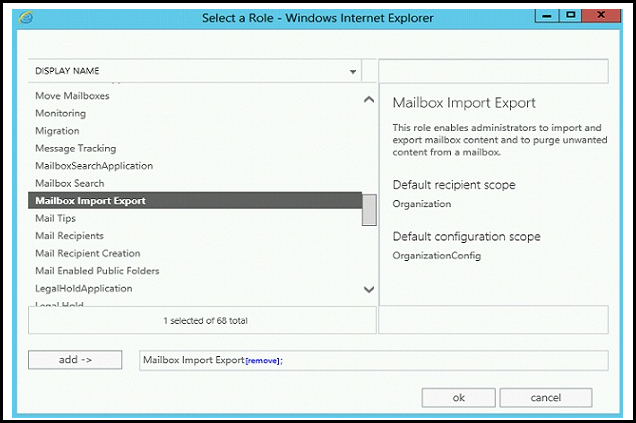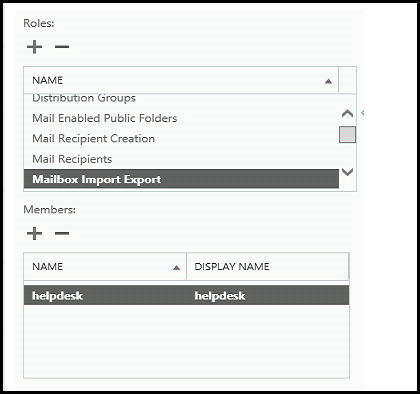 4. Export Exchange 2013 Mailbox to PST using EAC
Open Exchange Admin Centre and select Mailboxes. It will display a list of all mailboxes within the database. Select the mailbox that you need to export into PST file and hit a right click on it. Highlight Export to a PST file option.

Click on Browse to choose the mailbox that needs to be exported into PST file. Click Next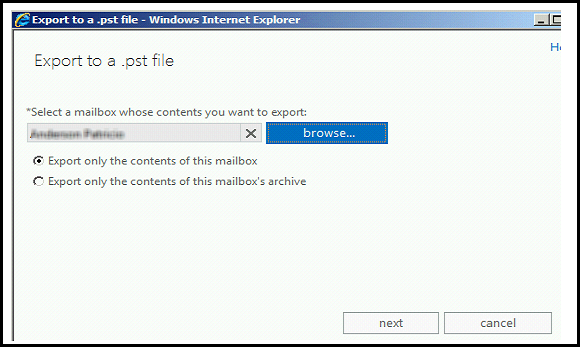 Now, browse a location to save the resultant PST file. Use the syntax: \\server\folder\Export File.pst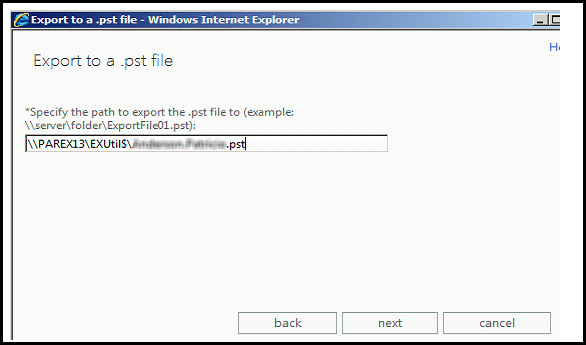 Define a mailbox where you want to drop the email after completing the export process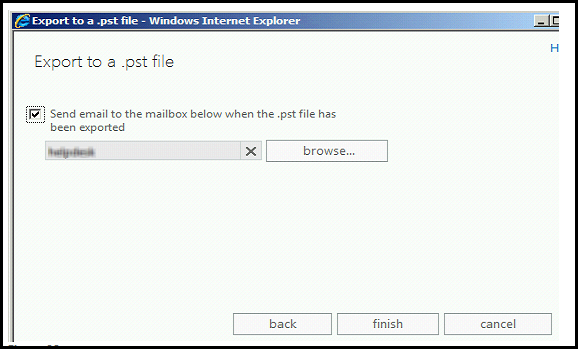 After completing the mailbox Exchange export to PST process, the output PST can be accessed with MS Outlook
How to Export Exchange 2013 Mailboxes to PST Quickly?
There are several professionals who are searching for an accurate and efficient solution instead of opting the manual methods. It is so because using EAC, one can export only single mailbox file items at a time and it is a quite lengthy procedure. Apart from this, it cannot export the specific items of mailboxes. Therefore, it is strongly recommended to use Exchange Export Tool. Using this advanced software, one can export all the emails, contacts, calendar, etc., from Exchange mailboxes to PST file format. It allows users to move Live Exchange Server mailboxes to PST file format.
Download Free Exchange Export Software
100% Safe and Secured
Concluding Lines
How to export Exchange 2013 Mailbox to PST is the most common search on the internet. In order to execute this task efficiently, we have discussed all the possible manual and automatic solutions in this technical page. Now, users can prefer any of them according to their preferences.