Read this to Convert Mac Outlook OLM file into MBOX format
Mac Outlook generates OLM file and whenever the user wants to move their data from Mac Outlook to any other platform. It permits the user to export emails, contacts, calendars, etc in OLM file format.
On the other hand, Apple Mail is a free and default email application for Mac OS and offers more features as compare to Mac Outlook. That's the reason why most users are switching from Mac Outlook to Mac Mail.
Although, both programs provide email exchange service; however, they facilitate users in their ways. Some users have a great experience with Mac Mail as compared to Mac Outlook because Mac Outlook stores its data in OLM file format and Mac Mail uses MBOX for an equivalent.
The OLM file can be accessed from Mac Outlook itself only which makes difficult for users to carry their OLM data. Including Apple Mail and more than 17 email clients supports MBOX file format this is also why users got to convert their OLM file to Mac Mail.
 Now, you know that OLM and MBOX are two different file formats. So, if users need to import their Mac Outlook data to Mac Mail, they need to convert Mac Outlook OLM file into MBOX format.
User Queries
Data migration from Mac Outlook to Mac Mail is always a complicated task for users. Let us understand this problem with this user query related to the same;
"Due to the increasing load on my system, I'm thinking to use Apple Mail in place of Mac Outlook. Apple Mail is a default mail application in Mac OS X hence; I would like to use Mac Mail rather than Outlook. Mac Outlook is also costly for me in comparison with Apple Mail. Please, someone, suggest me best solution import .olm to Mac Mail without difficulty."
Migrate Mac Outlook data to Apple Mail
Unfortunately, there is no direct method to execute the mentioned task. Hence, If you have .olm file you just need to convert it from OLM to MBOXfile format.
Don't worries we have a proficient tool that performs this task for you!
Reason to Choose Automated Tool
There are various third-party tools available in the market which offer to convert Mac Outlook OLM file into MBOX format. Whereas, there is no guaranty that every tool keeps your precious data safe.
Thus, we have one of the most trusted and tried solutions given below. This tool is designed on highly programmed algorithms that make this task easy. Here we have described some key features of the tool below.
Permits to save emails along with attachments
Maintain Original folder hierarchy during the conversion process
Authorize to convert any size of OLM file
Having two option for browsing OLM file: Add File / Add Folder
The standalone application doesn't need any supportive tool.
Automated Tool to Convert OLM to MBOX
This tool allows converting multiple files from Outlook OLM to Mac Mail.
Download OLM to MBOX Converter tool and install it
Select Add file / Add folder option to add the OLM file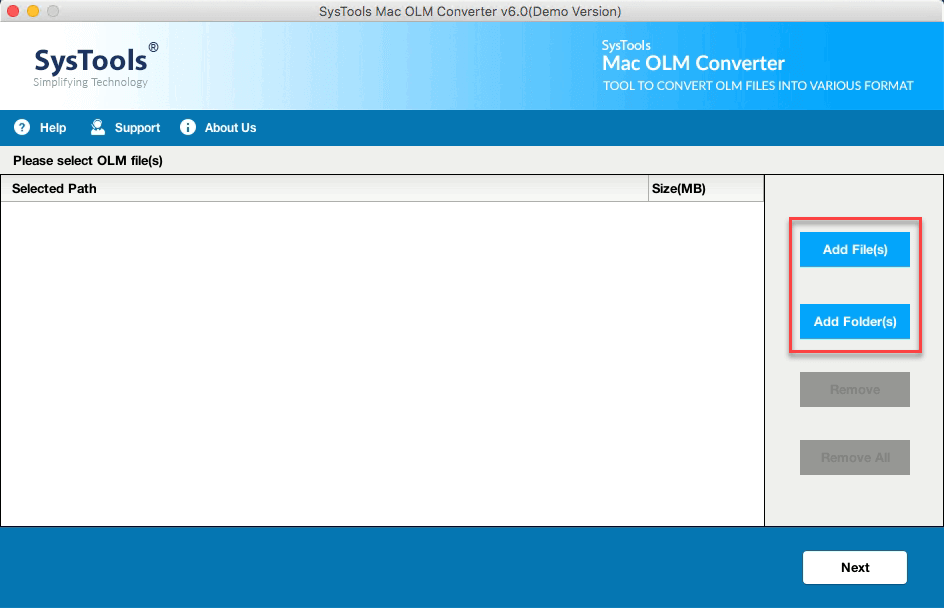 Choose MBOX file format from Export type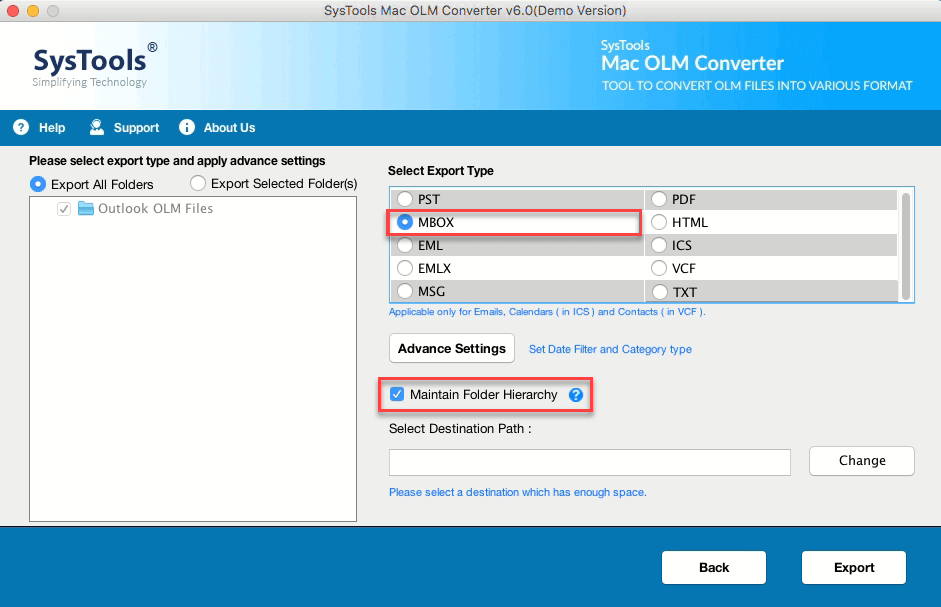 Browse the destination folder for the resultant file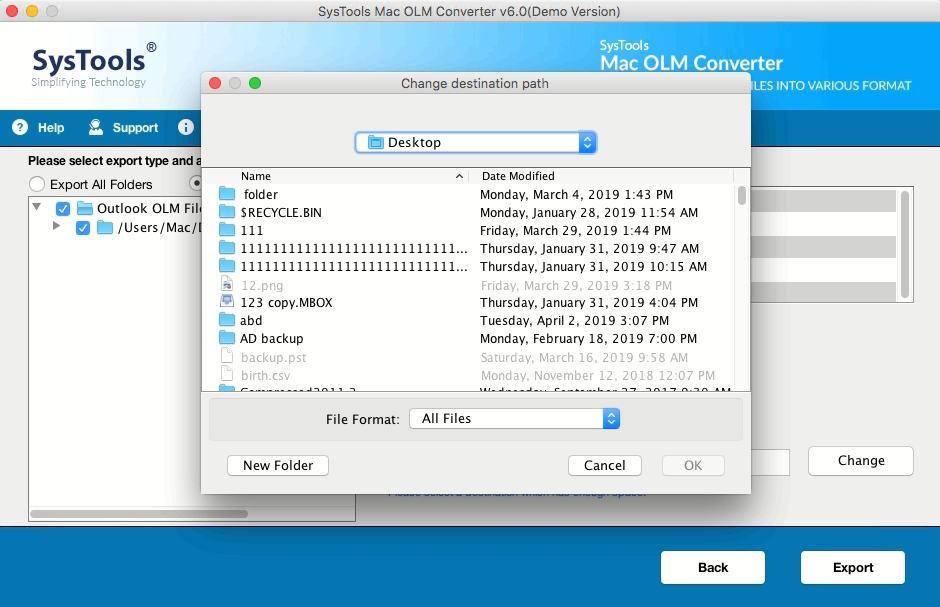 Hit the export button to initiate the process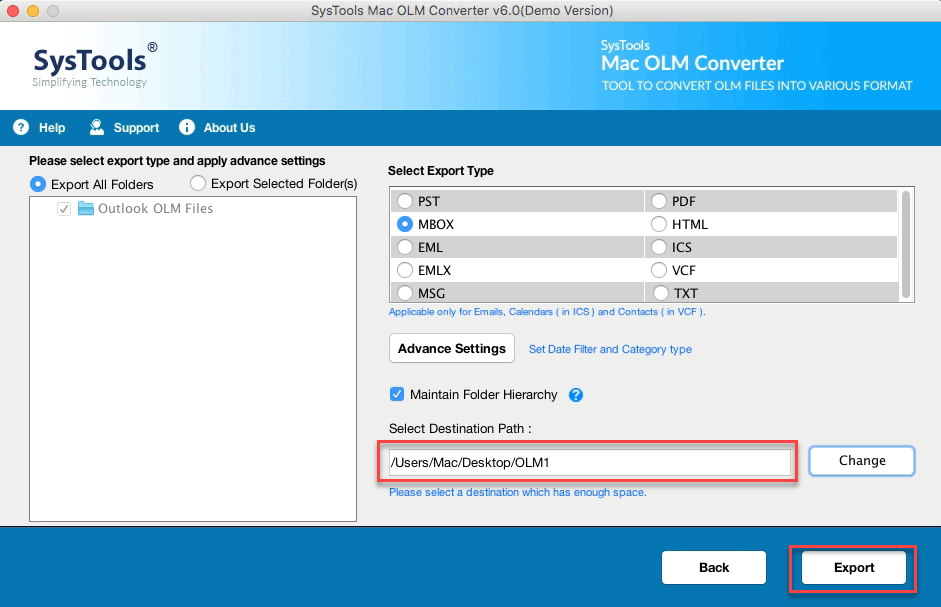 Now, your file is converted navigate to the location that you browsed to save MBOX and you just need to follow the below steps to import it into Apple Mail
Ways to Import MBOX file in Apple Mail
Open Apple Mail to your system the go to the File menu
Then hit the Import Messages… button
Now select Other option the hit the Continue button
Click on File in MBOX format option to import your data
Choose MBOX files according to your use then hit the Continue button
This is how simple anyone can migrate Mac Outlook OLM file into Apple Mail.
Also Read: Complete Guide to Export Outlook for Mac 2011 to Windows Outlook
Conclusion
However, switching email platforms is always a tremendous task but sometimes it is a necessity of the situation. Such a task of file conversion is very difficult and one among the foremost searched tasks by the user. The reason behind this is OLM file can only be accessible from Mac Outlook.
Whereas, MBOX supports 14+ email clients and some of them provide free service. Using this above solution even a non-technical guy also converts Mac Outlook OLM file into MBOX format in a trouble-free manner.